THE RIGHT POLICY AT THE RIGHT PRICE
Turbo Jet Insurance
Don't get caught uninsured or under-insured in your turbo jet. Our years of experience in the industry allows you to fly stress-free knowing that you're covered with the lowest possible premiums and top-of-the-line customer support should you need us for anything.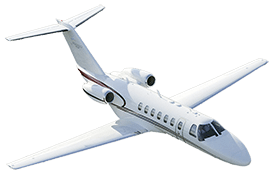 Turbo Jet Aircraft Insurance
Are you looking for a comprehensive Turbo Jet liability policy? Avion Insurance can help. Our rates are competitive and our knowledge of the industry is unmatched. You run too high of a risk by remaining uninsured, or even remaining under-insured after using a casualty or general property agent for your private jet insurance needs. We're here to provide excellent service and peace of mind to our clients so that they can rest easy with minimized premiums and mitigated loss.
GO WHERE YOU WANT
POLICIES PREPARED FOR INTERNATIONAL TRAVEL
We have extensive knowledge of the local insurance documentation requirements while your aircraft is traveling internationally. Whether a weekend trip to Mexico or a more extensive trip to the European Union, we'll ensure you have all of the regulatory documents required to speed through customs. We can work directly with your chief pilot or your handler to ensure the insurance certificates are issued ahead of time to avoid any customs issues. Avion is proud to partner with over 500 Business Aircraft owners with cumulative Aircraft Hull Values exceeding $1 Billion.
GET TOTAL COVERAGE
SPECIALIZED PLANS
Our team of agents specialize in aviation insurance, so we know the ins & outs of the confusing industry. By going to an aviation-specific expert, you'll be sure to get the exact plan that you need without unnecessary add-ons or upcharges. We analyze your specific situation and formulate an individualized policy for you.
We Work with Every Underwriter in the Industry

We are honored to represent every A rated Aviation Insurance underwriter in the industry, as well as Lloyds of London and worldwide reinsurers. With our experts looking at every option for your specific situation, you can't find a better price anywhere else.
"We were dissatisfied with our insurance coverage and the solutions our broker was offering us. As we sought other options, Avion ( Scott Langevin) was recommended to us by friends in the aviation sector. The support and advice provided by Avion were outstanding. They specialize in aviation insurance. In the end, we insured our jet aircraft through Avion and will soon do so for our Baron 58. We recommend Avion. Reasonable insurance costs, good coverage, and excellent support."
"Affordable rates on good coverage. Extremely fast to respond with answers to any questions I had."
"The staff at Avion are exceedingly professional and knowledgeable. They have been our insurance agents for almost 15 years. Scott and Chris are "Can Do" people and they will work for their clients to get the best price on the best coverage possible. They are always there when you need them as well. Simply Awesome."
"Property insurance for condo aircraft hangars in a "Florida coastal area" had been a struggle ever since 2004. Last year it was our good fortune to be referred to Scott Langevin at Avion by the National Hangar Insurance Program; he was the first to provide sensible coverage in over a decade. His support staff is awesome also, and this year's renewal was seamless. Thanks Avion!!"
Reliable Customer Service
While most insurance agencies spend the majority of their time out of the office seeking new business, we choose to spend our time in the office supporting our existing clients. When you call our office, you speak with one of our trained aviation insurance experts, not an outsourced representative in a call center. And when your time for renewal comes, we don't just lump you in with the same policy that you had last year. Instead, we market your policy again, checking for a newer, better policy for your situation.
Avion Insurance specializes in offering the absolute best and most comprehensive Aircraft Hull & Liability insurance policies for all Turbo Jet aircraft. We focus on all of the issues that are the most important issues to you offering a superior combination of the broadest possible pilot approval wording, most liberal pilot training requirements at the most competitive premium available in the industry.
As Avion writes over 500 Turbo Jet aircraft, we are extremely well versed in all of the aircraft insurance requirements needed for worldwide turbojet aircraft including ensuring regulatory compliance with European Union (E/U) requirements based on the gross weight of your aircraft, Regulatory Certificates of Insurance for Mexico, Canada, Brazil, Venezuela and Hong Kong.
For the same reason you want a Heart Surgeon specialist to perform Heart Surgery on you as opposed to your regular doctor, is the same reason you need an Aviation Insurance specialist to handle your Aviation Insurance. We have the experience, know-how and Underwriting Relationships to best handle your unique situation.
Owner-Pilots operating Turbine aircraft
Pilots with under 1000 logged hours transitioning into Turbo-Prop or Turbo-Jet aircraft
Fortune 500 Fleets
VIP / Celebrity-owned Aircraft
Aircraft Liability Limits up to $500,000,000
Aircraft Hull Values up to $70,000,000
Enjoy peace of mind knowing that the Avion Team will maximize your Aircraft Insurance coverage to best mitigate your risk in the event of a loss, while doing so at the most competitive policy premium available in the industry.
AVION offers comprehensive Turbo Jet hull and liability policies at the most competitive rates in the industry. From privately-owned jets to managed charter fleets, Avion has years of experience in creating the best insurance program to suit your individual needs. Whether you are traveling worldwide and require EU liability or certificates for private airports, we will use our strong ties in the industry not only secure the most competitive quotes, but to maintain excellent customer service through the life of your policy.
Coverage Cessna Citation, Soverign, Ultra, XLS
Gulfstream Glll, GIV, GV
Hawkers, Phenoms, Embraer, Legacy, Eclipse
Pilot & Flight Crew Coverage
Owner Flown Policies
On-Demand Charter Coverage
Industrial Aid
Aircraft Fleet Policy Discounts
Corporate Flight Department
Coverage for turbo jets like the CJ or Gulfstream
Pilot & Flight Crew Coverage
Hangar & Property Liability On-Demand Charter Coverage
Step One:
Fill out the form below or call us at (800) 780-9201 to tell us more about you and your aircraft.
Step Two:
We'll work with you and our underwriters to find the best policy for your needs.
Step Three:
Fly with confidence knowing that you have the right policy at the right price.